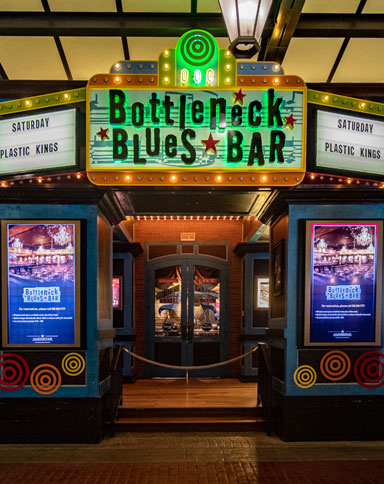 Bottleneck Blues Bar
Step into Ameristar St. Charles' eclectic, lively, and always cool entertainment venue. Whether you're in the mood for classic rock, 80s, Motown, modern pop, or something in between, the Bottleneck Blues Bar is St. Louis' premier destination for entertainment and nightlife.
General Rules
Must be at least 21 years of age to enter
No laser pointers or weapons allowed
No cameras or recording devices at any time during ticketed events
No eating during ticketed events
Must be 21 or over. Please Drink Responsibly.
Hours of Operation
September's Lineup
Saturday, September 2
Up All Night
Saturday, September 9
Extremely Pointless
Saturday, September 16
Gypsy Soul
Saturday, September 23
Dr. Zhivegas
Saturday, September 30
Plastic Kings
October's Lineup
Saturday, October 7
Bitter Pill
Saturday, October 14
Platinum Rock Legends
Saturday, October 21
Platinum Rock Legends
Saturday, October 28
Platinum Rock Legends
November's Lineup
Saturday, November 4
Trixie Delight
Saturday, November 11
Plastic Kings
Saturday, November 18
Dr. Zhivegas
Saturday, November 22
Super Jam
Saturday, November 25
Gypsy Soul